Jenny Shellard
Project: 'A Conversation with Trees'
£1000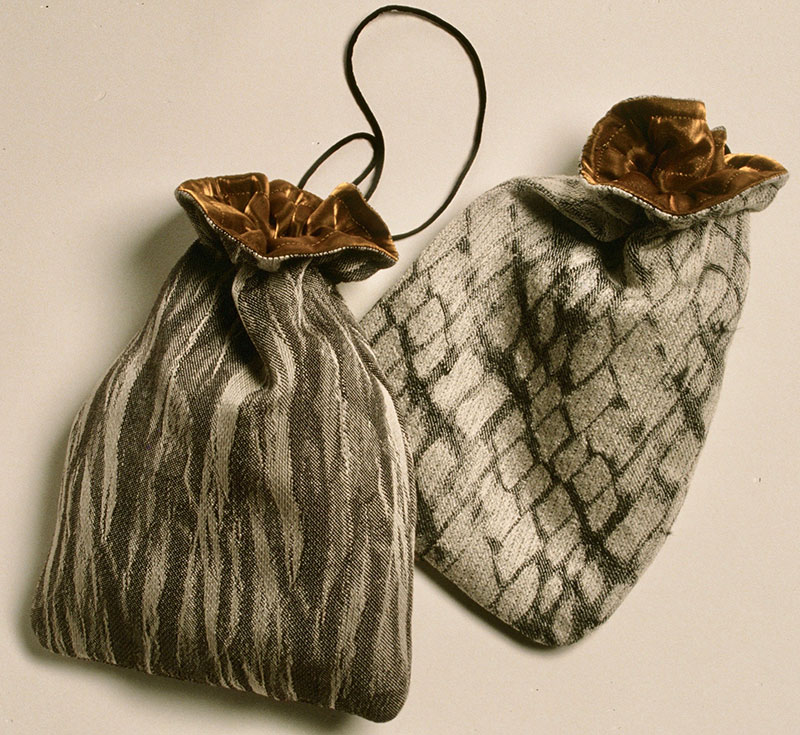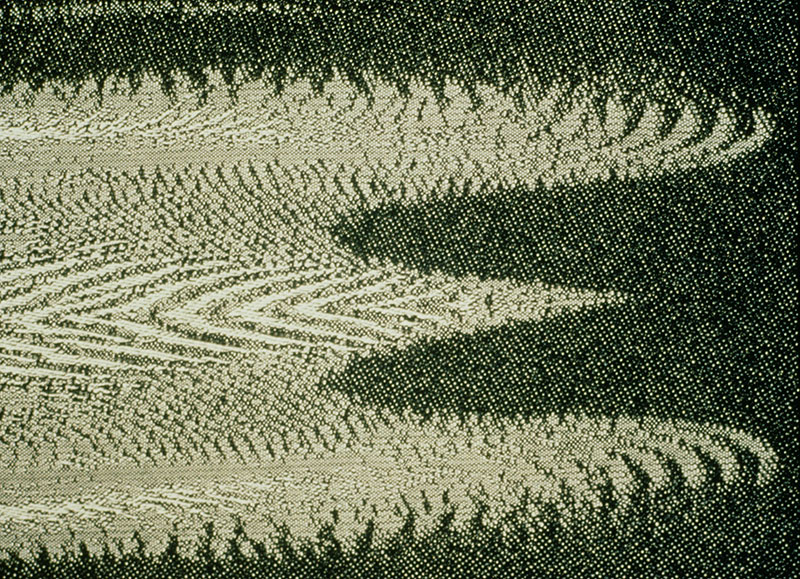 Jenny has established a long career in textiles, having moved from three-dimensional design to constructed textiles in 1970s before returning to textiles at the Royal College of Art in 1990s where she developed her understanding of Jacquards. Through her research fellowship at the London College of Fashion, Jenny has developed her work from large scale woven panels of luminous colour into small scale accessories and her design projects in Sri Lanka and Latvia demonstrate her flexibility and versatility.
Jenny's new project 'Conversation with Trees' makes sense of the Jacquard loom's capacity for drawing and the interpretation of complex imagery not otherwise possible in the geometric warp and weft structure of the dobby loom. Her images of drawings into woven samples demonstrate this facility. The judges responded to the design detail and finish of her smaller pouches with images of textured bark, enriching the visual qualities of the tree rather than diminishing them, which is not always the case of the translation of drawing into Jacquard design. Jenny's proposal to work with an existing Jacquard loom is a sensible one. It would save time on the threading of the loom and she suggests that she can develop her ideas beyond the loom's limitations.
The loss of trees in the urban landscape and the ecological theme underpinning Jenny's work translates the current thinking. The judges also praised her social work in her area where she hopes to support the planting of more trees.
Sam Goates
Project: 'Engineering Artisan Cloth'
£500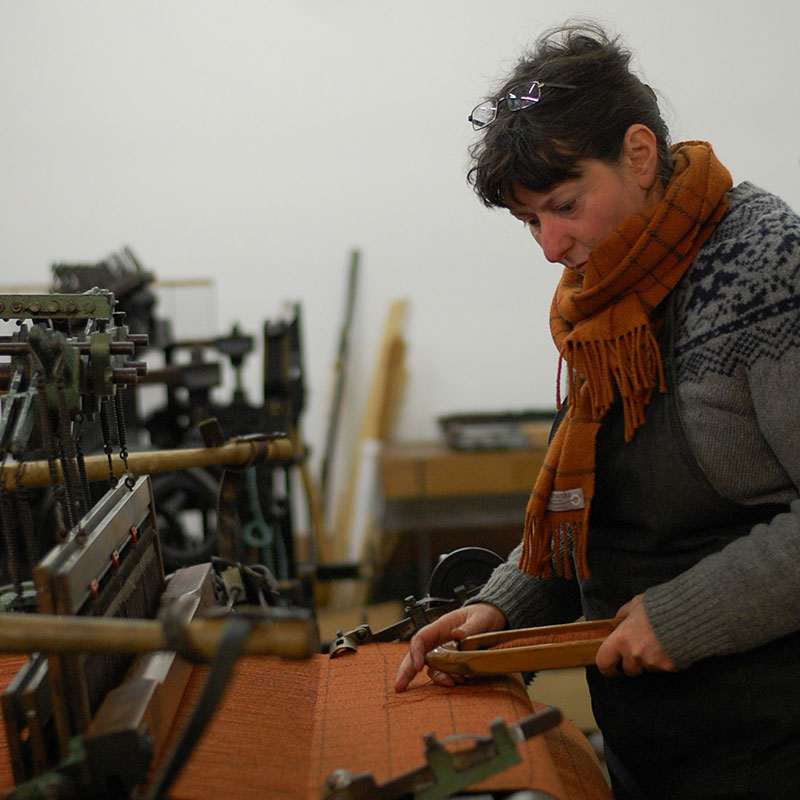 Sam's application is for funding to support the restoration of a rare loom for the commercial production of tweeds at her studio. Sam is producing classic tweeds for traditional tailoring in Savile Row and for other companies. She has built her business 'Woven in the Bone' over six years and developed a sound clientele with whom she has established a good, working relationship.
Sam has a strong track record, having qualified at Glasgow and established her experience of commercial weave production in Australia for twenty-five years. She describes herself as an 'Artisan weaver' but Sam demonstrates a strong understanding of weave design and construction and her business has developed to become her sole source of income. The judges would have liked her to discuss her collection more fully, as they are beautiful- but they had to be hunted down on the internet!
This proposal is far more than a restoration of a loom- rather it is an example of professional development for a weaver who has built and sustained her practice over a significant period. Sam's personal achievements should be recorded and the loom restoration to be a bigger emphasis on her own professional development.
Mark Beecroft
Project: 'Interlooped' PhD
£500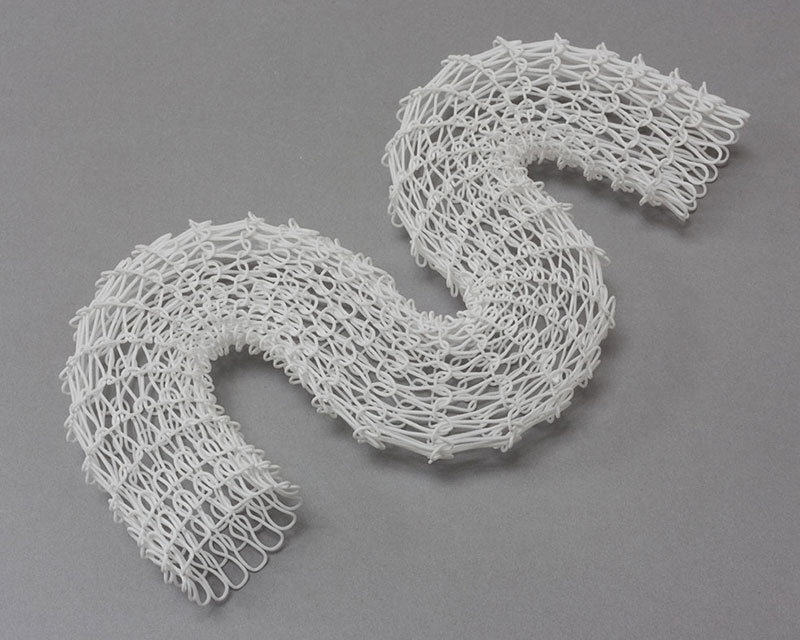 Mark's application is for funding to support practice-based research and development in completion of his doctorate. He is doing this alongside his role as Senior Lecturer for 'Textiles in Practice' at Manchester Metropolitan University.
Considering the complexity of Mark's technical tests into 3D knitted and looped forms, the description and explanation of his research is articulated with clarity. The proposal is for a collaboration with CAD modeller, Tom Mallinson, in the production of a final body of work. As prototypes, the exploratory samples shown in his images suggest potential for larger scale 'knitted' pieces as sculpture. It is presumed that Tom is facilitating Mark's ideas through practical investigations and creative dialogue, this is common practice in product design.
Mark indicates that he is disseminating his on-going research through lectures, research symposia and published articles. This application seems worthy of support for PhD research, awarded to a designer who is demonstrating advancement in his field with clear professional knowledge and understanding.
Ruth Singer
Project: 'Re-discovering Corded Quilting'
£500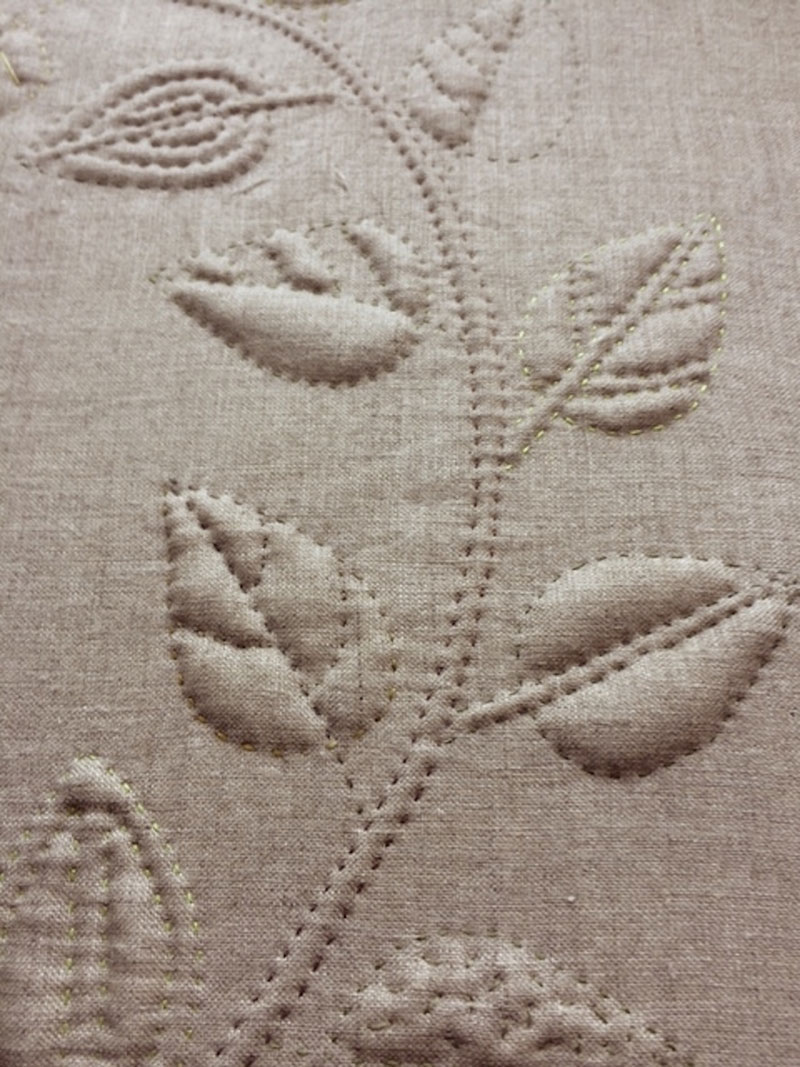 Ruth is applying for funding to support research into corded and stuffed quilting. She has a sound rationale focusing on a technique that has been overshadowed by other forms of quilting and patchwork. Her aim is to raise awareness and collate examples and references across a range of museum collections for the purpose of education. A database would be produced and the research would result in a series of articles for Text and other appropriate journals, then developed towards a book in the longer term.
Ruth is a successful artist and this is reflected in her cv and breadth of exhibition, perhaps Ruth could have made more reference to this in her application. However, her intention to compare the 'manufactured' with the 'domestic' is an interesting approach to the subject. Ruth is an established researcher and author and the relationship between that and her own creative practice should be encouraged as it has greater significance and is relevant.
Deborah White
Project: 'Restoration of C19th Linen Damask Napkin Loom'
£500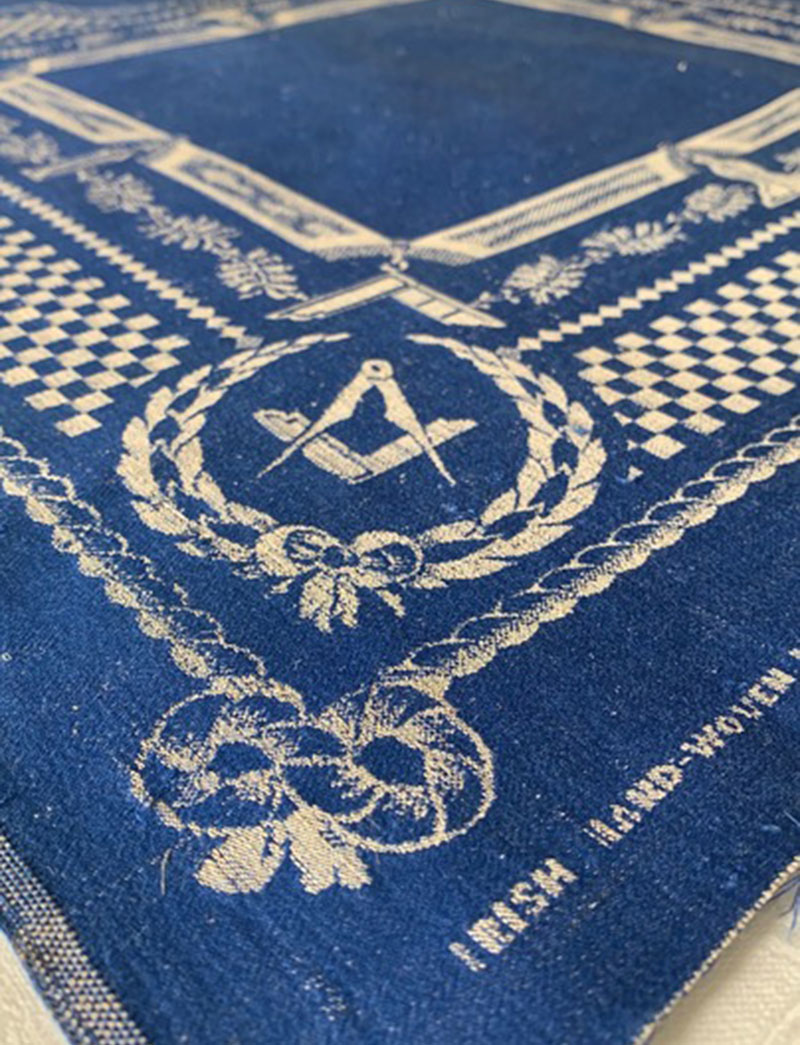 Deborah's proposal is to apply for funding to conserve and restore an early nineteenth century linen damask napkin hand-loom, with a view to designing and weaving contemporary textiles, using centuries old skills that are fast in danger of becoming extinct. This project has real merit as a heritage project that has been recognised as 'critically endangered' by the Heritage Crafts Association.
Deborah discusses her role in working within the museum sector for the past twenty- five years and although it has been richly rewarding she would like the opportunity to develop her own contemporary designs and a new body of work. As a textile artist Deborah sees designing on this loom an opportunity to approach Newry Mourne and Down District Council. This would promote a possible continuation of the 'Creative Peninsula' (Northern Ireland's largest celebration of arts and crafts) and have an open studio, run workshops and allow the public to view new work undertaken.