The Constitution of the Textile Society facilitates the nomination and election of individual members to Honorary Membership in recognition of their significant support to the Society and/or in acknowledgment of their outstanding professional contribution to the field of textiles.
The Textile Society is pleased to present its distinguished Honorary Members.
Dr Jenny Balfour-Paul
Jenny Balfour-Paul is an international lecturer, traveller, writer, dyer, artist and curator. Author of three books – Indigo in the Arab World, Indigo: Egyptian Mummies to Blue Jeans and Deeper than Indigo; tracing Thomas Machell, forgotten explorer – she has written and edited numerous papers, articles and book chapters. Latest publications on the historical dyeing industry include papers with colleagues on their research into the Crutchley Dyers' Archive of Southwark that was inscribed on UNESCO's Memory of the World Register in June 2020.
Jenny is Honorary Senior Research Fellow at Exeter University, Fellow and former Trustee of the Royal Geographical Society, Fellow of the Royal Asiatic Society and Explorers Club, and past President of UK's Association of Guilds of Weavers, Spinners and Dyers. She has curated many exhibitions, including being consultant curator for the Whitworth Art Gallery's UK touring Indigo: a Blue to Dye For (part of which toured to the Textile Museum in Washington DC). Jenny was a partner in 'Silk Road Connect', Yo Yo Ma's 2009 Silk Road educational project, which included brainstorming at Harvard and editing and writing for a special edition of Calliope children's magazine. She has been consultant for documentary films, including the American Blue Alchemy: Stories of Indigo (New Deal Films) and involved in the organisation of several symposia, including 'Indigo Sutra' in Kolkata in 2017. She also researches dyes and textiles recovered from shipwrecks and promotes natural dyes for education and for a more sustainable textile and fashion industry.
Jenny's collections are in the Whitworth Art Gallery, the Department of Economic Botany at Kew Gardens and the Pitt Rivers Museum in Oxford. For the Pitt Rivers she donated a large collection of Arab world textiles and artefacts that became the Multaka-Oxford project working with refugees, and led to an online exhibition:
https://www.prm.ox.ac.uk/event/weaving-connections
Her related extensive collection of photographs, many taken while undertaking research for her PhD in the Middle East and North and West Africa, have also been digitised for the Pitt Rivers photographic archive and the following blog article describes this collection:
https://pittrivers-photo.blogspot.com/2021/09/a-life-in-colour-cataloguing-jenny.html
Jenny has been a long-term ambassador for the Society and has contributed to its publications and events. She is elected for her significant contribution to the field of textiles.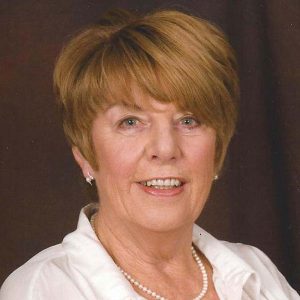 Lyn Broster
Lyn Broster's career is in design history. She worked as a Senior Lecturer, researcher and exhibition curator at the University of Central Lancashire (UCLAN) in the Art and Fashion Department for 15 years. Alongside her specialism in dress and textiles she developed a particular interest in museum studies and design collections, seeking to 'create a partnership between past and present' and to develop new audiences. These ideas were the focus of an exhibition After a Fashion at the Harris Museum in 2005, which was funded by the Arts Council. Lyn has published work in Text and the Women's History Journal.
Lyn's introduction to the Textile Society was when she was sponsored for a paper on 'Modern British Textiles in the 1920s and 1930s' in 1993. She became a committee member a few years later and Chair in 2000 for three years. Following this, Lyn re-established the Awards and Bursaries programmes and became team leader in this area alongside a period as Vice Chair. She has 'always been passionate about helping students follow their career paths and supporting people who are working in textiles and arts'.
Lyn is currently a co-opted Committee Member and the Textile Society's Awards and Bursaries Archivist. She is elected for her significant and sustained contribution to the Society, particularly in the development of the Textile Society Awards and Bursaries.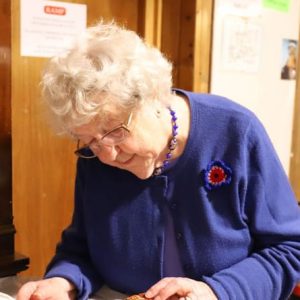 Freda Chapman
Freda Chapman is a former primary teacher and textile enthusiast with a special interest in Eastern European embroidery.
Freda served a total of 21 years on the Textile Society Committee, including time as Events Secretary from 1987 to 1990, Vice Chair from 1993 to 1998, and Chair from 2006 to 2007. Freda's husband, Tony, was Press Officer from 1987 to 1995, and, as noted by former Honorary President Mary Schoeser in Textile Society History, the Society 'owes a great debt to the Chapmans'. Together, Freda and Tony were stalwart Committee members.
With her enduring passion for textile education, and her commitment to the preservation of archives and collections for future generations, Freda continues to support and encourage the Committee in their voluntary work for the Society.
Photograph: Haslemere Museum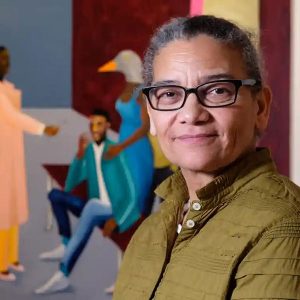 Professor Emeritus Lubaina Himid CBE RA
Lubaina Himid is Emeritus Professor of Contemporary Art at the University of Central Lancashire, and Royal Academician since 2018. Lubaina was one of the first artists involved in the UK's Black Art movement in the 1980s and she continues to create activist art exhibited in Britain and galleries worldwide. Lubaina was appointed MBE in June 2010 for services to Black Women's Art. She won the prestigious Turner Prize in 2017, and in doing so, made history by being the first black female artist to win this coveted prize, as well as being the eldest nominee after the Tate removed the age limit.
Lubaina's art focuses on themes of cultural history and reclaiming identities. She was introduced to the Textile Society through her contribution as guest speaker at the conference 'Inspired by…' at the Wellcome Collection, London in April 2018. Lubaina's early work was influenced by her mother, a textile designer, while her more recent painting, sculpture and curatorial projects clearly reflect her continuing interest in colour, pattern, fabrics and clothing.
Lubaina Himid CBE RA is recognised for her outstanding contribution to contemporary practice, and her significant support for art in Black, Asian and Minority Ethnic groups.
Photograph: Darren O'Brien/Guzelian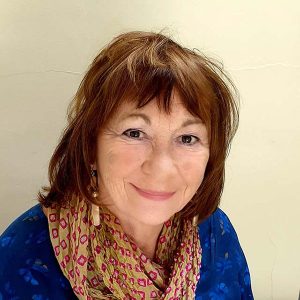 David King (in memory of the late Dr Brenda King)
Brenda was committed to supporting and developing critical writing within the broad field of textiles and initiated the former Textile Society Critical Writing Award. The Brenda M King Prize for Critical Writing in Textiles, which replaces the former award, is made possible with the support of her husband David King. The Textile Society expresses its sincere gratitude to David for his generous donation.
Brenda was a design historian with a BA Hons (MMU) and MA Hons (University of Liverpool) in Design History with Practice. As an independent scholar she gained a PhD at the Royal College of Art, London in 2001. Subsequently she was external examiner of a number of doctoral theses. Brenda published several books and journal articles based on her object-centred research, covering different aspects of textile history. She also presented conference papers across the UK, USA and India. Brenda enjoyed curating numerous exhibitions that were the result of her research into the wild silks of India and the Wardle family of Leek. Taking objects out of store for the general public to enjoy was always a pleasure for Brenda.
Brenda was a Textile Society Committee member for over thirty years, during which time she was Editor of the Society's newsletter and journal, and organiser of a number of annual conferences. She was a co-founder of the Society's Antique and Vintage Textile Fairs and continued to maintain her involvement with them. Brenda was the initiator of the Society's Research Symposia and was Chair of the Textile Society for ten years.
Brenda's research was still ongoing at the time of her death.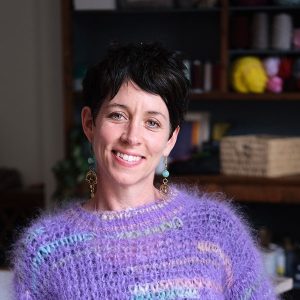 Kirstie Macleod
With a background in Textiles, Visual Language, Costume Design and theatrical based disciplines, Kirstie Macleod's work forms a diverse portfolio comprising embroidery, photography, painting, drawing and installation.
Kirstie's Red Dress project is a 14 year-long award-winning global, collaborative embroidery project. It has provided an artistic platform for women around the world, many of whom were vulnerable and living in poverty, to tell their personal stories through embroidery. From 2009 to 2023, pieces of The Red Dress travelled the globe being continuously embroidered. Constructed out of 87 pieces of burgundy silk dupion, the garment has been worked on by 367 women/girls, 11 men/boys and 2 non-binary artists from 51 countries. All 141 commissioned embroiderers were paid for their work, and received a portion of all ongoing exhibition and merchandise fees, with the opportunity to sell their work through The Red Dress Etsy shop. The rest of the embroidery was added by willing audiences at various exhibitions and events. Embroiderers included female refugees from Palestine, Syria and Ukraine, women seeking asylum in the UK from Iran, Iraq, China, Nigeria and Namibia, survivors of war in Kosovo, Bosnia & Herzegovina, Rwanda, and DR Congo; impoverished women in South Africa, Mexico, and Egypt; individuals in Kenya, Japan, Kyrgyzstan, Germany, Turkey, Jamaica, Sweden, Peru, Czech Republic, Dubai, Afghanistan, Australia, Argentina, Switzerland, Canada, Tobago, Vietnam, Estonia, USA, Russia, Pakistan, Wales, Colombia and England; students from Montenegro, Brazil, Malta, Singapore, Eritrea, Norway, Poland, Finland, Ireland, Romania and Hong Kong as well as upmarket embroidery studios in India and Saudi Arabia.
The Red Dress has been exhibited in various galleries and museums worldwide including Gallery Maeght in Paris, Art Dubai, Museo Des Arte Popular in Mexico City, the National Library of Kosovo, National Waterfront Museum in Wales, Fashion and Textile Museum, London, an event at the Royal Academy in London, Michael Horbach Foundation, Cologne, Germany, and the Premio Valcellina Textiles award in Maniago, Italy where it won first prize in 2015.
Kirstie is elected for her sustained commitment to The Red Dress as a global community project, the outcome of which has become an icon of contemporary world textiles.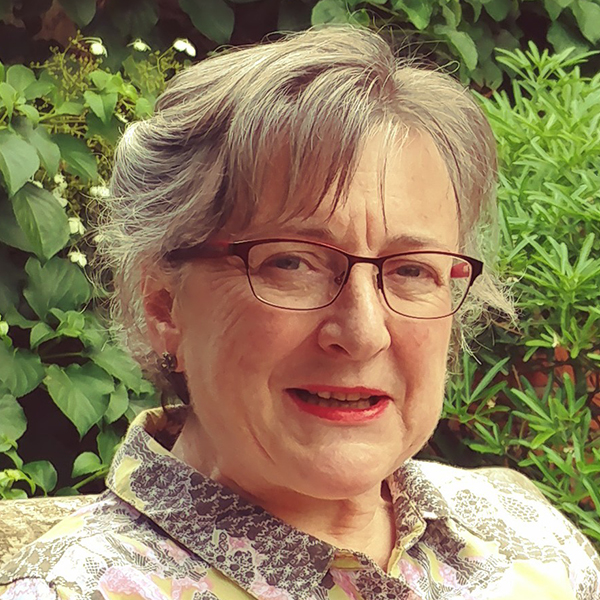 Professor Lesley Miller
Lesley Miller has been a part-time Professor of Dress and Textile History at the University of Glasgow since 2013. Until 2021, she was also Senior Curator of Textiles and Fashion (before 1800), in the Furniture, Textiles and Fashion Department at the Victoria & Albert Museum, London. Between 2010 and 2015, she led the curatorial team on the refurbishment and reinterpretation of the galleries devoted to Europe 1600-1815, subsequently acted as curatorial consultant for the exhibition Balenciaga: Shaping Fashion (2016-7), and project leader and co-editor for the recently published Silk: Fibre, Fabric and Fashion (2018-21) and co-editor of Collecting Spain. Collecting Spanish Decorative Arts in Britain and Spain (2022). Before joining the V&A in 2005, Lesley taught dress and textile history in Higher Education and was latterly Head of Division in History of Art & Design at the University of Southampton in Winchester.
Lesley took her first degree in Hispanic Studies at the University of Glasgow, then studied for a Masters in History of Dress at the Courtauld Institute of Art. Having discovered the relatively new field of academic dress and textile history, she moved swiftly into research for a PhD at Brighton Polytechnic (now University). Subsequently, she taught Design History at several British universities, and has lectured in Europe and the Americas. A specialist in early modern textiles and fashion, Lesley focuses in particular on aspects of design and commerce in the 18th-century French silk industry. Her first major publication on the subject was Selling Silks. A Merchant's Sample Book 1764 (2014) and she is currently preparing a book on the world of a shoemaker's son who became a silk designer and manufacturer in Enlightenment Lyon.
Lesley was an early Committee Member of the Textile Society and co-editor of Text (1998-2001) and has continued to support the Society throughout her career. Lesley is elected for her significant contribution to the field of textiles.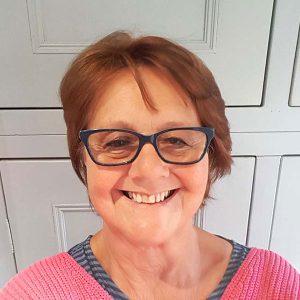 Debra Roberts
Alongside an extensive career in the teaching of printed textile design in higher education, Debra Roberts served as Trustee, Vice Chair, Student Bursaries judge and Organiser of the Manchester Antique and Vintage Textile Fair.
Over a period of 15 years Debra developed the Manchester fair as a significant event in the textile calendar. She introduced new vendors to the market, attracted specialist collectors to the city, and brought international buyers and sellers to the fair. Through new initiatives Debra created opportunities for local, regional and national creatives, gave scope for guilds and societies to share their practices, and delivered parallel activities, including demonstrations and specialist talks by high-profile speakers, for a widening audience. Debra's work in Manchester has raised approximately £10-£12K each year in support of the Textile Society Awards and Bursaries scheme.
In her role as Vice Chair, Debra made a significant contribution to governance; liaising with the convenor and Chair, and developing an action plan as an outcome of the first governance review in the Society's history. She contributed to numerous working groups and helped steer the Society through the Covid pandemic with her management of a series of online events which have gone forward as an online resource of Videos on the Society's website.
Debra is elected for her outstanding contribution to the Society's awards and bursaries scheme, and for her significant role in elevating the profile of the Textile Society.
Mary Schoeser
Mary Schoeser has a long-standing association with the Textile Society. Mary was instrumental in its early development and she has contributed to it in numerous roles – as Committee Member, Chair and Honorary President for more than 20 years – and this breadth of experience is reflected in her piece for the website, Textile Society History, that records the first 25 years of the Society.
Mary studied design and weave before embarking on a career as an archivist, historian and researcher in Textiles. Her 250+ publications capture the range and extent of her work – as an advisor on historic collections to a writer on artist-designed textiles. Her research ranges from the broad overview (World Textiles 2003/2022) to specialist topics such as printed handkerchiefs and nineteenth century Spitalfields silks, but centres on the role of Western manufacturers and designers since the 1660s, and what she calls 'the location of innovation'. Among her numerous publications are many that capture her work for the National Trust, and other house custodians, as an historic textiles advisor – which also embraces wallpaper – and as a curator and writer on artist-designed textiles (Textiles: The Art of Mankind 2013).
Throughout the history of the Textile Society, Mary's commitment has been a constant – formerly as Honorary President, but also behind the scenes as an ambassador for the Society and in her contribution to the Society's publications. Mary's research and skill as an archivist, historian, educator and writer has provided invaluable knowledge and understanding to the world of textiles.