TEXTILE SOCIETY EVENT
Textiles: a bigger picture
The Textile Society 40th Anniversary Conference
To mark the Textile Society's 40th Anniversary this conference considers the power and influence of textiles, celebrating its ability to inspire while exploring its capacity for change.
The Textile Society is privileged to welcome professional speakers at the forefront of their practice. Textiles crosses cultural boundaries and disciplines, and its material qualities hold an enduring universal relevance. This conference looks to the future from different perspectives; reflecting a bigger picture for textiles through art, architecture, fashion and industry.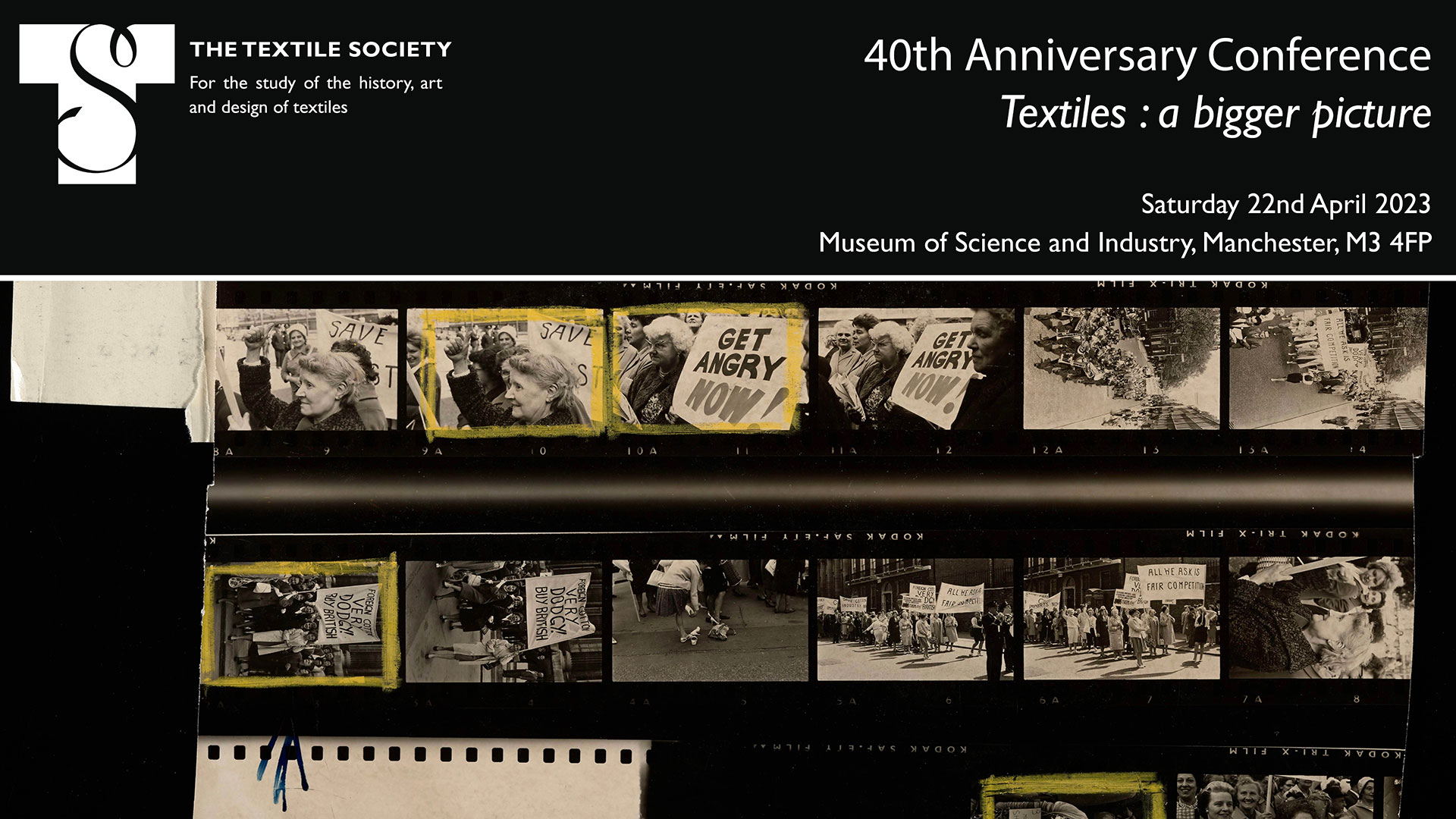 MUSEUM ADDRESS
Science and Industry Museum
Liverpool Road
Manchester
M3 4FP
(Entrance on Lower Byrom Street)
ARRIVALS
Arrivals from 9.00am please enter through the café doors entrance to the right of the main entrance.
Arrivals from 10:00am please enter through the main doors.
ACCESSIBLE PARKING
There are 3 blue badge parking spaces in front of the museum on Lower Byrom Street.
These operate on a first come, first served basis.
PARKING
Please note: There are no other parking facilities on site.
There are pay and display bays on Lower Byrom Street and Liverpool Road. Alternatively, there are a number of car parks within close proximity of the museum including NCP Great Northern, NCP Spinningfields, NCP Salford Stanley Street Manchester or NCP Salford New Bailey. All are less than a 10-minute walk away.
PUBLIC TRANSPORT
The nearest rail and Metrolink station is Deansgate, a 10-minute walk away.
The nearest train and tram stations are Deansgate and Deansgate-Castlefield.
Metroshuttle bus services stop on Quay Street, a 5-minute walk away.
GETTING AROUND THE MUSEUM
The Conference is taking place in the Garratt Suite.
There is step-free access to all floors of the museum's multi-level building.
All lifts are wheelchair accessible with tactile labelling and some have audio announce.
9.30am Registration and Morning Coffee
10.30am Welcome and Introduction – Linda Brassington, Chair, The Textile Society
10.45am to 12.15pm
SESSION ONE
Adam Mansell Chief Executive Officer of the UK Fashion and Textiles Association (UKFT).
Carry Somers Designer, entrepreneur, fashion activist and founder of Fashion Revolution.
12.15pm to 12.45pm
SHORT PRESENTATIONS
Amelia Lawrence Crafts Council and Craft UK relationship manager.
Daniel Harris London Cloth Company, recipient of the Textile Society Special Award 2023.
12.50pm to 1.55pm
LUNCH (Food and refreshments served)
TEXTILE SOCIETY AWARDS SHOWCASE
Lissy Hatfield Postgraduate Student Award 2022.
Katerina Knight Postgraduate Student Award 2022.
TEXTILE SOCIETY AWARDS SHOWREELS
Terry Donaldson Postgraduate Student Award 2022.
Marie Fillon (Monique Fei) Undergraduate Student Award 2022.
Helen Westhrop Postgraduate Student Award 2021.
Natsuki Hanyu Postgraduate Student Award 2021.
Paxton House Parallel Worlds: Worlds Apart, Museum Award 2022.
2.00pm to 4.15pm
SESSION TWO
Dr Christine Checinska Designer, writer and the V&A's inaugural Curator of African and African Diaspora Fashion.
Jonathan Watkins Independent curator of contemporary art and former Director of Ikon Gallery, Birmingham.
Asif Khan MBE International award-winning architect and Deputy Chair of the Design Museum trustees, London.
4.20pm Afternoon Tea
5.00pm Close
Adam Mansell
Adam brings his in-depth knowledge of British design and manufacture to this conference. As Chief Executive of the UK Fashion and Textile Association (UKFT) Adam has guided companies through the turmoil of Brexit and the global pandemic. Working with government and industry, Adam is confronting the challenges of political and economic change, and championing the best of the UK's textile innovation to an international audience.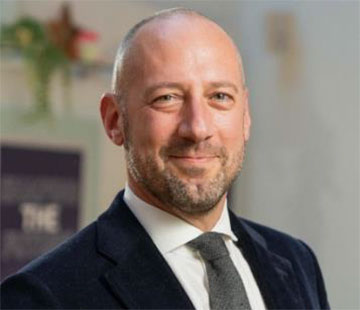 The Future for UK textiles
From Mars to Milan, Suits to Submarines and Bouncy Castles to Bandages:
Revealing the hidden value of the UK textile industry and exploring the potential for growth.
Carry Somers
Carry is the founder of Fashion Revolution, the world's largest fashion activism movement. She has sailed the Pacific investigating microplastic pollution, investigated the impact of Staffordshire's textile industry on rivers past and present, and collaborated on a garden at RHS Chelsea Flower Show featuring plants that can be used to make or dye our clothes.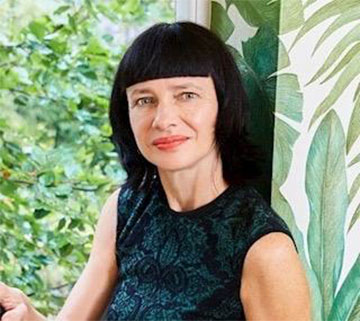 On the 10th anniversary of the Rana Plaza factory collapse, Carry will explore the social and environmental impact of the fashion industry past and present, and consider how we can reshape its future. In Carry's view, 'Fashion is a complex web of tangible and intangible values that extend far beyond the financial. Being equipped with information about the social and environmental impacts of our clothes enables us to make better choices. If the fashion industry wants to drive sustainability, it must start to understand the true value of textiles, which should be mindfully designed, redesigned and recuperated as a valuable resource'.
Amelia Lawrence
As a member of Craft UK the Textile Society is part of the Crafts Council's network that aims to promote opportunities, share ideas and participate in conversations.
Amelia Lawrence is relationships manager in the business skills team at the Crafts Council, providing support to Craft UK organisations and facilitating focus groups to encourage learning and experience sharing across the community.
The Crafts Council's innovation programme gives makers access to new materials and innovative technologies, and inspires them to push the boundaries of their practice.
Amelia collaborates with cultural, academic and industrial partners to support makers with information and advice to enable their businesses to flourish.
Emma Fallon Image: Benjamin Pryor
Daniel Harris
The Textile Society Special Award 2023 is given to Daniel Harris – weaver, designer and entrepreneur – in recognition of his extraordinary enthusiasm and commitment to the preservation of our textile heritage in contemporary practice. Daniel started his London Cloth Company 12 years ago with a 1920s loom in a small studio, supported by a Textile Society Professional Development Award.
Now he is producing quality woven cloth on his ever-growing collection of restored shuttle looms, employing the same techniques that have not changed for decades, and supplying high fashion brands worldwide including Lyle and Scott and Ralph Lauren. Daniel has 14K followers on Instagram, and has recently achieved a successful crowdfunding campaign to raise £30-35K towards the restoration of an entire mill and its contents, based in Wales.
Dr Christine Checinska
Christine is the V&A's inaugural Senior Curator of African and African Diaspora Fashion and Lead Curator of the Africa Fashion exhibition.
Prior to joining the V&A, Christine worked as a womenswear designer, academic, artist and curator. Her creative practice and research explore the relationship between fashion, culture and race. Christine's recent exhibitions include an intervention for Makers Eye: Stories of Craft, July-October 2021, Crafts Council Gallery, and Folded Life February 2021, Johanne Jacobs Museum, Zurich, Switzerland. Her recent publications include 'Re-Fashioning African Diasporic Masculinities' in Fashion and Postcolonial Critique, Elke Gaugele and Monica Titton (eds.), 2019. In 2016 she delivered the Tedx Talk Disobedient Dress: Fashion as Everyday Activism.
In industry for over thirty years, Christine has created womenswear collections for iconic British brands such as Margaret Howell, where she was a Senior Designer, during the late 1990s.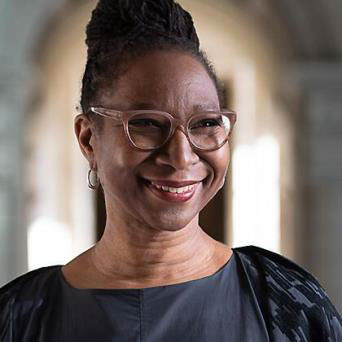 Crafting Difference/Weaving Histories
Christine will speak to concepts that have been consistent in her thinking, writing and creative practice, referencing artists to whom she is particularly drawn.
This presentation explores the relationship between textile crafts, culture, race and life-writing from Global Africa perspectives. The closeness of textiles to skin, their presence in our everyday life, our instinct to touch, to hold, to wrap ourselves in cloth creates a sense of connection that opens the possibility of cross-cultural dialogue and the co-creation of interwoven narratives.
Considering the work of artists such as Anya Paintsil, Enam Gbewonyo and Alicia Henry, this presentation explores what textile crafts can do that other media cannot.
Jonathan Watkins
Jonathan is an independent curator and writer. Previously he was Director of Ikon (1999-2022), Curator of Serpentine Gallery (1995-1997) and Director of Chisenhale Gallery (1990-1995). He has curated a number of large international exhibitions including the Biennale of Sydney (1998), Quotidiana, Castello di Rivoli, Turin (1999), Tate Triennial (2003), Shanghai Biennale (2006), Sharjah Biennial (2007), Negotiations, Today Art Museum, Beijing (2010), the Guangzhou Triennial (2012) and the Quebec City Biennial (2019). Jonathan won the 1992 Prudential Award for the Visual Arts, UK and in 2013 was nominated as one of the top 100 Global Thinkers by Foreign Policy Magazine. In 2019 he won the inaugural Ampersand Foundation Award to realise the exhibition of his dreams, Carlo Crivelli (2022).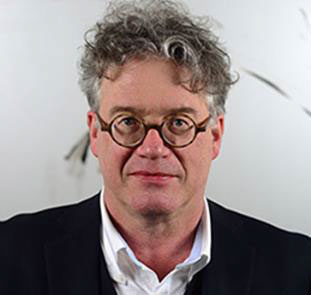 Unravelling Art
Contemporary artists working with textiles raise important questions about the definition of art. Rather than elevating creativity with textiles from "craft" to "fine art", often unwittingly, they imply a redundancy of the latter. This radical proposition, counteracting the presumed gentility of sewing and weaving, is exemplified by the output of artists such as Susan Collis (UK), Britta Marakatt Labba (Sami, Sweden), Claudia Losi (Italy), Timur Novikov (Russia) and Ding Yi (China).
Asif Khan MBE
Architect Asif Khan MBE crosses boundaries – buildings, landscapes, exhibitions, installations. In 2015 his Guggenheim Museum Helsinki was designed to wrap visitors in diffused light through an intelligent textured glass skin. His Hyundai Pavilion at the 2018 Winter Olympics was coated in black pigment pierced with light, while the Entry Portals to Expo 2020 presented immense, intricately woven, carbon fibre structures. Asif "explores how material and social innovations can fundamentally alter the way people experience and shape their environment…".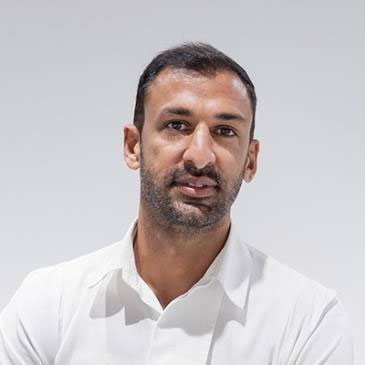 Asif's current major cultural projects include the new London Museum at West Smithfield which is the largest cultural project in Europe, the renewal of the world-renowned Barbican Arts Centre in London and the Waterfront Renewal for National Museums Liverpool.
Asif will reveal the importance of texture and textiles to his work, on a journey from the earliest human constructions to woven forms of architecture and beyond.
Click here to purchase your ticket via Eventbrite