Yusra Makhdoomi
Royal College of Art – Print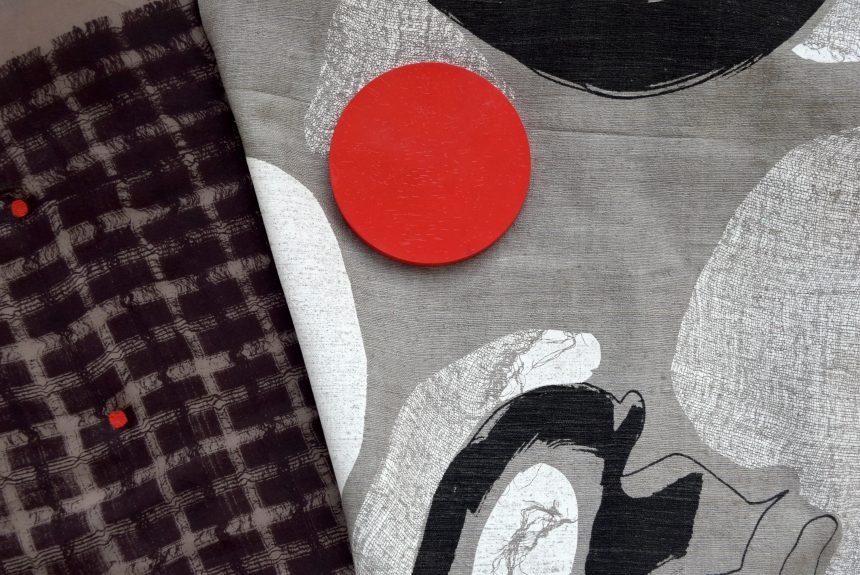 Yusra's work is driven by her passion for storytelling through colour. Her observations, compositions and textile developments are inspired by her cultural heritage and visits to Pakistan, and from a breadth of sources in museum collections, vintage textiles and calligraphy. Yusra refers to her work as 'curating with colour', and the judges were struck by her highly personal sketchbooks.
Her playful, painterly collections on paper and cloth resonated with colour, and demonstrated her acute sense of collage, proportion and placement. Yusra is translating her vibrant body of visual research into a tactile collection of material investigation, using dyed cloth, screen printed image, and stitched embellishment to convey a rich textile narrative.
Vicky Price
Nottingham Trent University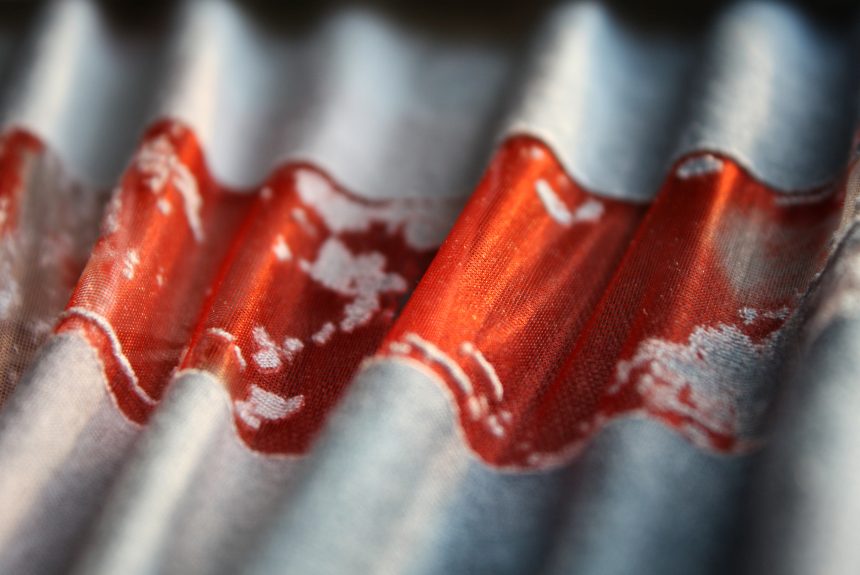 Vicky works with an extensive range of print processes, applying colour and creating texture through chemical burn-out, resist-dyeing and laser etching. Vicky's work is eco-driven. She is exploring the development of a more sustainable discharge (colour-bleaching) process, and her technical investigations source material waste for subsequent, creative development.
Significantly, Vicky works within the dynamic of the landscape, creating drawings on location that 'evolve in a physical space over differing scales'. The judges were impressed with Vicky's more recent shift in focus – taking her cloth into site-specific wastelands, engaging with the local materials, earth and minerals, and developing a personal response to place through drawing and colour interpretation on cloth.
Phoebe Corker-Marin
Royal College of Art – Print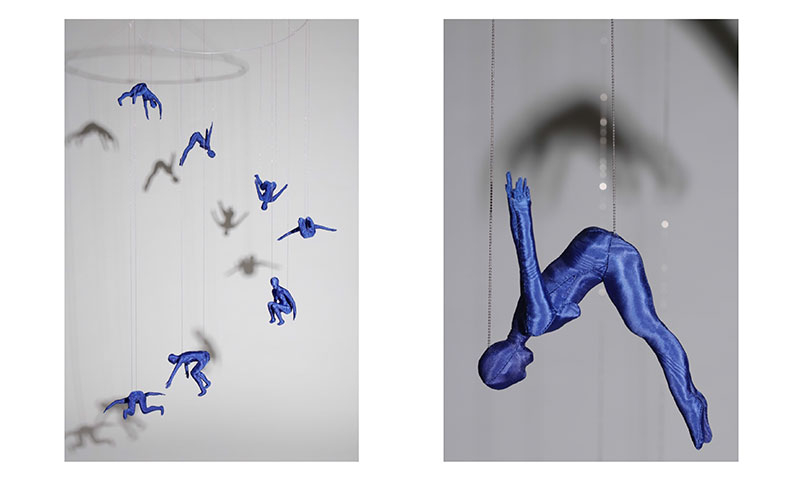 Phoebe is a sculptor who works in textiles 'to create small-scale emotive figures'. Her sculptures can be held in the hand. They are skillfully constructed figures, or parts of the body, created in a range of materials from cut and shaped cloth to articulated cork and rubber. Phoebe's work ranges from three-dimensional human representations to intriguing abstract forms that appear to emerge from manipulated cloth, bodies partially obscured within soft folds of fabric.
Her collection consists of a series of memories in cloth, interpretations of personal stories and expressions of emotion in three-dimensional form. The judges were struck by the sense of motion evoked in Phoebe's figures, seeming poised for animated composition, and dynamic movement in textiles.
Erin McQuarrie
Glasgow School of Art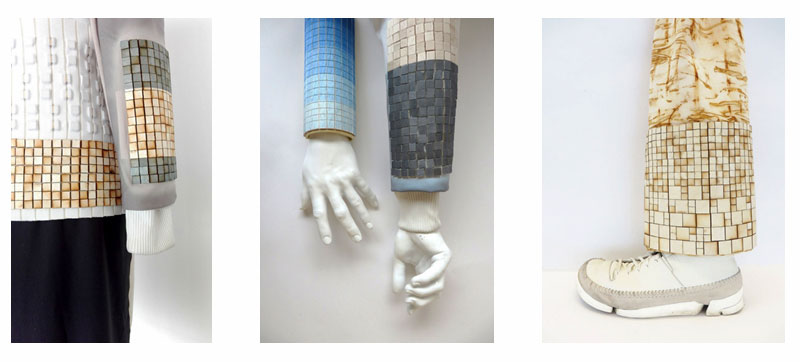 Erin's degree project, takes the interior of the Charles Rennie Mackintosh's Glasgow School of Art building as its starting point. She has made several visits to the building, which was badly damaged by fire in May 2014, and the School of Art's Archives have also been major influences. Erin is working with technical fabrics, natural fibres, plastics and also woods, having been inspired by the building in its current restoration and post fire state, where natural wood and stone have been covered for protection, with synthetic fibres.
Inspiration for colour comes from a combination of imagery from the dramatic site interior and from Japanese Ukiyo-e woodblock prints held by Glasgow Museums Archives. She is usuing heat transfer, pigment printing and dyeing, including of x-ray images of plaster casts taken by the restoration team, as digital print onto wood. The judges were impressed by the richness and innovation of Erin's textile development, which was matched by her ability to articulate the content in her written application, and in person at the Antique Textile Fair.
Rosalyn Gregg
Heriot Watt University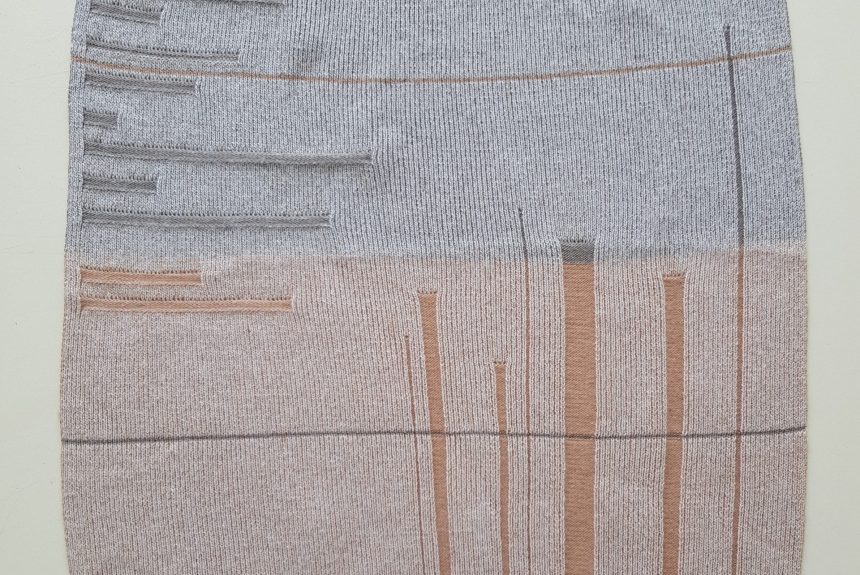 Rosalyn is using British yarns from rare breed sheep to create a womenswear knitwear collection that draws attention to British farming heritage. Rosalyn's work is inspired by the iconic textile machinery that has been central to the manufacturing industry in Britain.
Her observational research, in the form of black and white photography, evokes the industrial revolution of the past with sharp, graphic composition, while her design development references the pattern and structure of these machines through an extensive range of knitted samples. The judges were impressed with Rosalyn's keen sense of design, and her personal exploration of texture, mark-making and movement demonstrated in her innovative collection of shaped garments.
Heather Ratliff
Loughborough University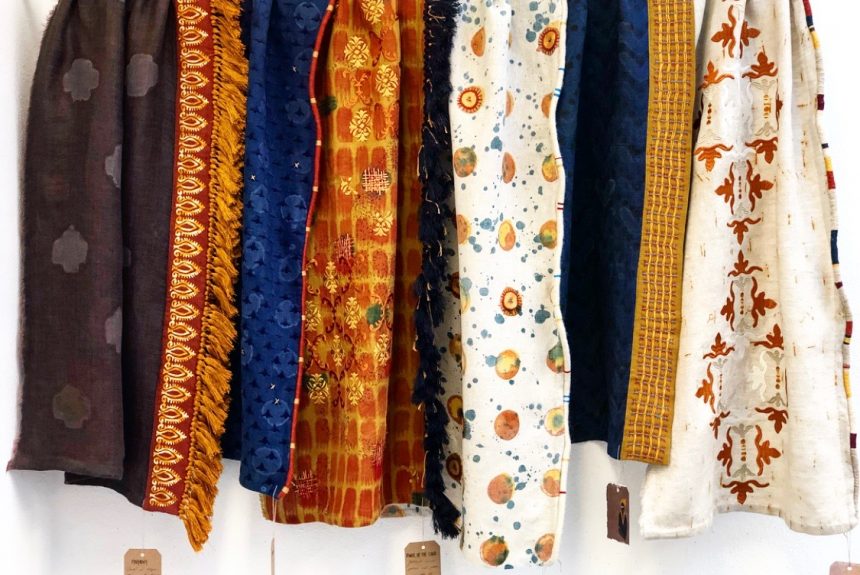 Heather is inspired by traditional Burmese culture, its sustainability and craftsmanship. Her work is a personal response to the Rohingya Muslim refugee crisis in Myanmar which she experienced during a research visit to Burma. Focusing on ethically sourced fabrics and yarns, Heather's work is a reinterpretation of Myanmar pattern, a translation of the culture and imagery experienced.
Using both digital and hand embroidery, she combines hand-painted pattern on linen with stitched surface texture, seeking to 'pay homage to the people and [their] narrative'. The judges were impressed with Heather's rich mixtures of colour and tactile qualities, her explorations with the sensory, haptic qualities of scent embedded in cloth, and her ambition to raise awareness of social and political issues through her work.