Lissy Hatfield
Royal College of Art
£1000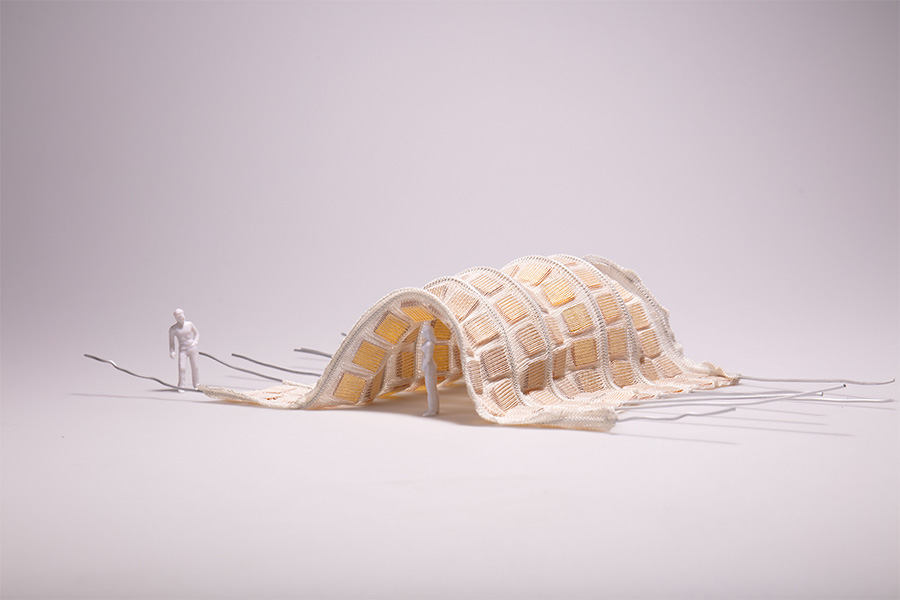 BUT NOT AS YOU KNOW (KN)IT
Combining unconventional materials with traditional knit techniques, Lissy's work plays on outdated and misunderstood views of knit/textiles. Her project explores the bridge between the craft of knitting and digital processes, resulting in innovative applications of knit. Three mini-collections – Trapped, Sliced and Folded – demonstrate pliable structures with potential for sustainable architecture as interchangeable knitted structures, kirigami and origami, cut and folded.
Lissy says, "Through this project I hope to change assumptions of knitting as unnecessary or an afterthought. Adding human qualities and texture to soulless built environments will show the true value and impact of the knitting industry in this context." This bursary is awarded to support Lissy's development of textile structures to scale, and to create architectural prototypes that will inform her project outcome and build bridges to future research.
Teresa Donaldson
University for the Creative Arts, Farnham
£500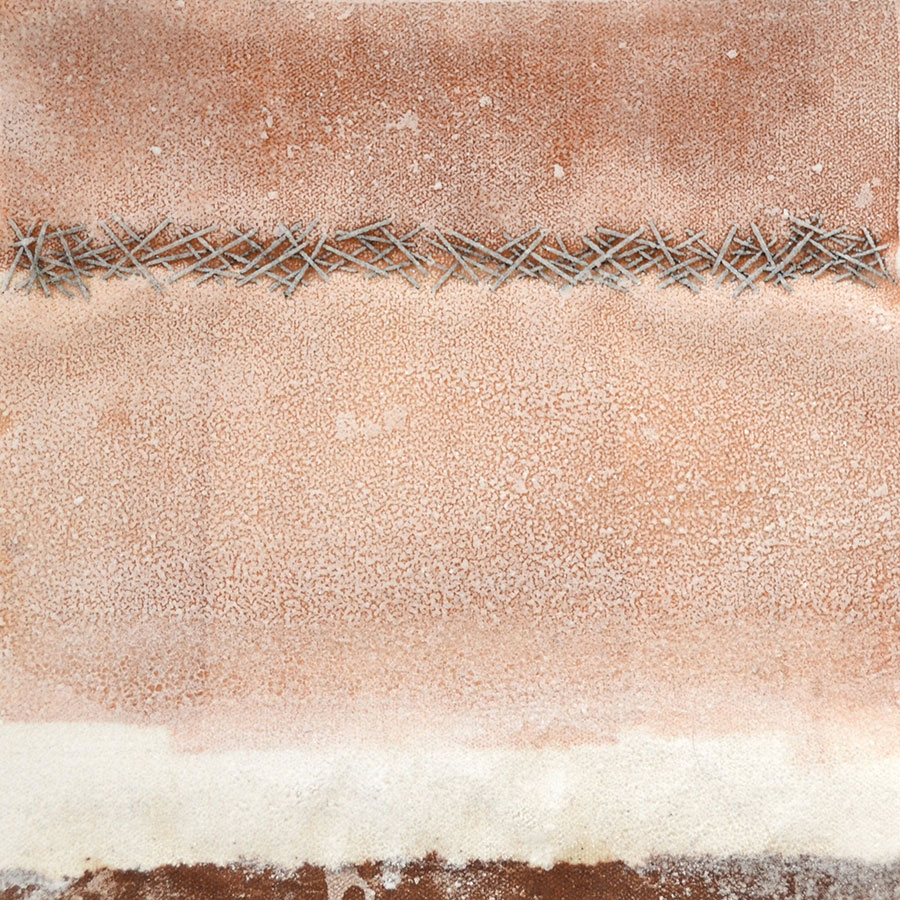 A Sense of Place: Colour from the Coast
Using ground pigments and processes derived from the coast around Lyme Regis, Teresa's project aims to involve viewers in discovery and actively engage them with place. Her work is developing towards an installation of textiles that will take the viewer on a journey along the coast, showing colours, dyes and textures from each location.
Teresa says, "Walking on sections of the South West Coast Path is my starting point, offering a way to experience the place in different seasons and weathers, observe changes, record details, and note the passage of time – a mapping process. I find the geology fascinating – these cliffs have become my colour palette. Local sandstones, chalk, Lias and Greensand range in colour from soft pink, ochre and white to grey-green and dark bluish-grey." This bursary is awarded to support the presentation of Teresa's project, with the possibility to explore moving image and sound to reflect the dynamics of her subject.
Katerina Knight
Royal College of Art
£500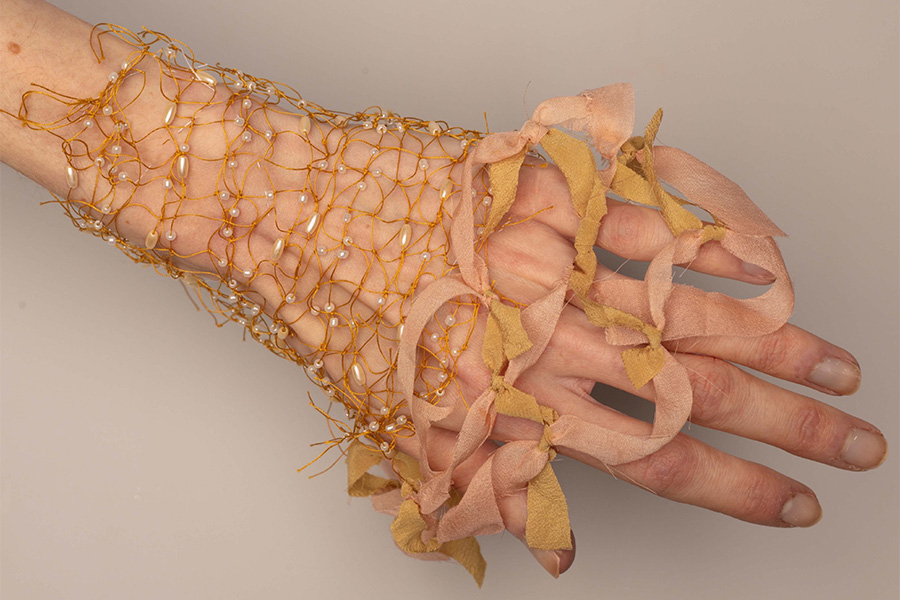 Strength in Fragility 
Katerina's research takes an artisan approach to the (re) interpretation and (re) integration of British handmade lace into contemporary textile practice. "From first-hand experience I have understood the sad reality that this craft is slowly fading away. With a lack of funding, contemporary awareness and educators, there is significant strain on volunteers to keep its heritage alive. I have experienced the archive of British lace and the beauty it holds." Katerina seeks to show the archive's contemporary currency, and explore how the craft can live on while also reimagining it in other media – dye, print, embroidery.
Katerina's project is inspired by the history, community and industry which she perceives as an "interconnect" – a place where lace represents "a delicate visual narrative that sensitively conserves authentic tradition". This bursary is awarded to support Katerina's material research and creative practice to inform the final year of her MA studies.
Marie Fillon (aka Monique Fei)
University of the Arts London, Central St Martins
£1000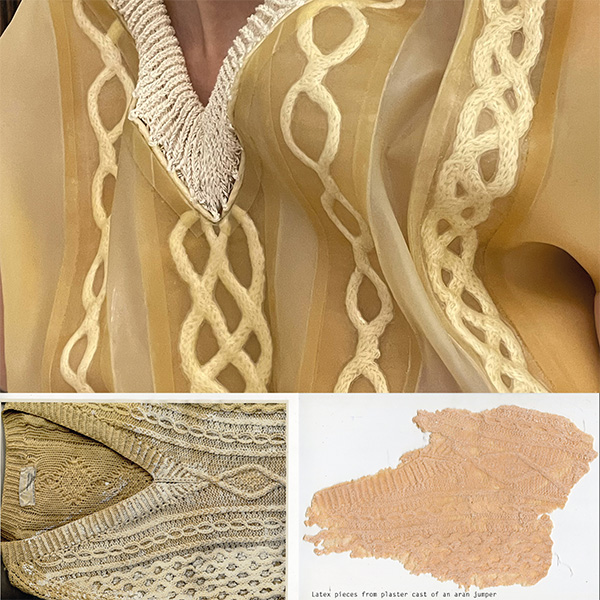 The Exploration of the spinster's figure: A subversive spin on unmarried women
Marie's project explores the figure of the unmarried woman – the spinster – in relation to textile tradition. Through knitted experimentation and an exploration of hand spinning, her project aims "to question the role women are meant to play, to analyse how unmarried women are perceived and to highlight their ambiguous status: stigmatised yet celebrated, powerful thus feared".
Marie says, "My collection will subvert 'old maid' knitwear using cables and diamond stitches in a new way…keeping the technical knowledge…but twisting it through materials and designs. I spin my own yarn for some fabrics…I reuse the fluff from the tumble dryer to create yarn as a reference to household chores. I want my fabrics to clash in the way they look and feel, to highlight the dichotomy between a 'desperate' spinster and an independent woman…to combine the thickness and opacity of felted lambswool with the stretchiness and transparency of latex." This bursary is awarded to support Marie's communication of her work in a form that reflects the narratives and performance of her imagined characters, and the particular nature of her creative practice.
Olivia Mckenzie
University for the Creative Arts, Farnham
£400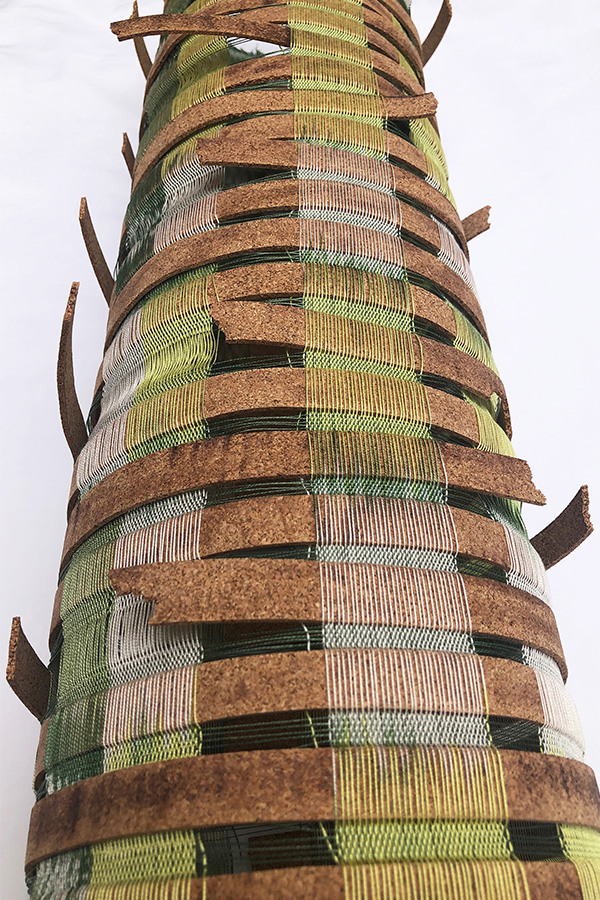 Engulfed by the Forest
Olivia's project pays tribute to our national woodlands through the medium of weave. She is researching the Devon rainforests – Ausewell Wood, Fingle Woods and Bovey Valley Woods – as a unique temperate environment that offers a diverse range of habitats with rare and threatened species of fungi and lichen. "These forests offer a wealth of inspiration for me to translate into cloth – engulfing the forest within the layers of my warp and weft." Olivia's drawing and photography record the light and shadows cast through the foliage. Her work applies the technique of ikat, and explores block threading over bold pattern-making as an expression of these layers.
Olivia says, "I am inspired by the unique placement of the extensive tree route systems that wrap and bind the bases of trees and how I can translate them. Experimentation of leno structures allows light to travel through my samples, and the addition of a spaced warp will produce interesting shadows." This bursary is awarded to support Olivia in styling her textiles for interiors, and to present them in a form that reflects the narrative of craft that is central to her work.
Lara Pain
University of the Arts London, Central St Martins
£400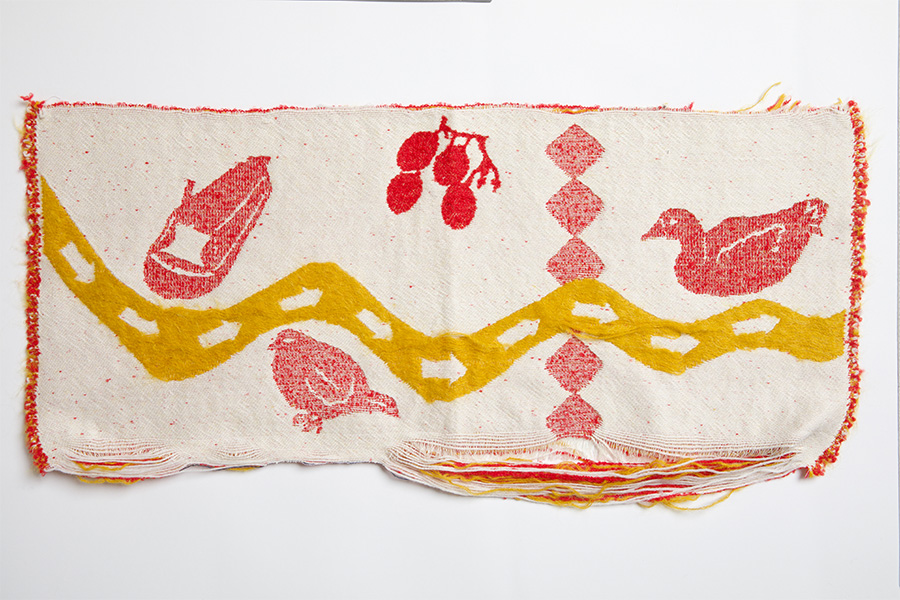 Contemporary Travel Stories
Inspired by the traditional folk crafts of her birthplace in Switzerland, Contemporary Travel Stories is an experimental woven collection exploring the act of narrative storytelling. Inspired and informed by a variety of self-initiated research trips, Lara's collection presents a range of sustainable Autumn-Winter fabrics and blankets.
Lara says, "My research has focused on a variety of thematically different 'days out', investigating and documenting the things I have seen and experienced on the journey. These travels were recorded through photography and video, and later translated through drawing and mixed media collage. Through techniques such as floats, double cloth, dyeing, laser cutting and illustrative layouts, the stories from the research are examined and reworked on both the dobby and jacquard looms." This bursary is awarded to support Lara's design collection, and her development of products that communicate the particular lifestyle concept underpinning her work.
Marcel Agyapong
Nottingham Trent University
£200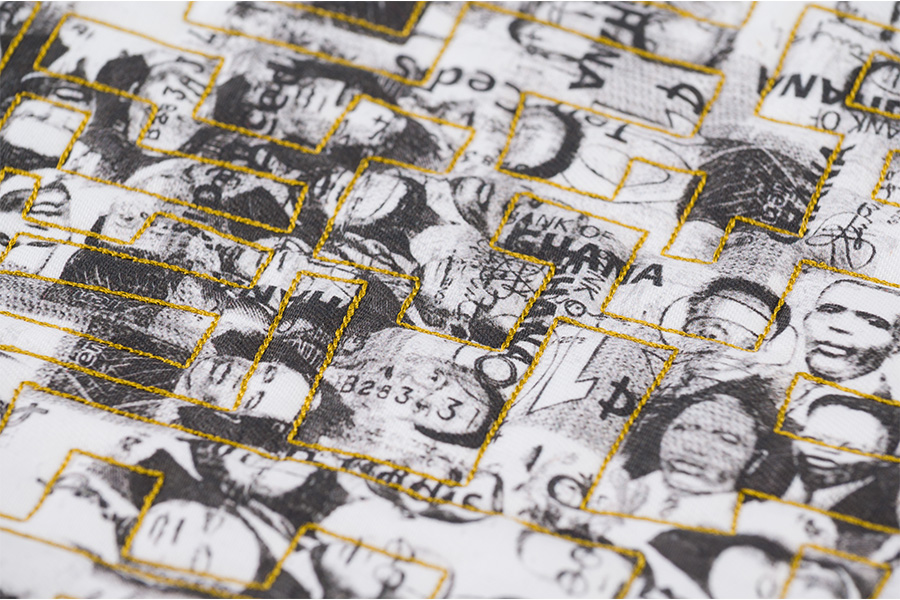 A Seat At The Table
Influenced by themes of Afrofuturism and afro surrealism, Marcel's work explores black identity through print and embroidery. Her project – A Seat At The Table – is driven by artist Deborah Roberts' idea that, through art, she can "create a more expansive and inclusive view of the black cultural experience".
Marcel's project seeks to focus on "the true beauty of black identity. To inform my work I am looking at personal experiences and memories, my family and my peers, and taking these experiences to create visual research – considering objects, colours and patterns." Marcel's bursary is awarded for the purchase of quality materials to support her development of finished textile samples and the creation of fashion accessories as a reflection of black identity.
The Textile Society is sincerely grateful to Joy of Print for their generous contribution of £1,000 in support of the 2022 Student Bursaries scheme.